Organic Skincare Treatments
Plant Collagen Neck & Chest





Video Gallery (application)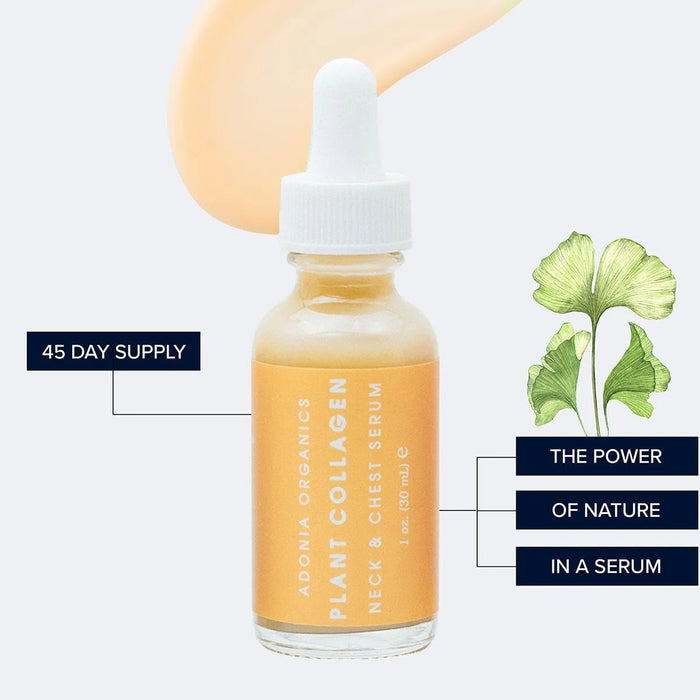 Neck tightener
Regular price
Sale price
$69.00
Unit price
per
With aging comes the effects of gravity, free radicals, and other harmful results from pollution and sun exposure. This intense serum will penetrate the skin to boost the vigor of neck and chest skin the way it does for all our red-carpet A-listers.
30 day money-back guarantee on all purchases
Share
Videos
Benefits
Helps form connective tissue
Reduces sagging in the neck area improving skin health
Visibly improves skin pigmentation on neck and chest
Paraben-Free
Cruelty-Free
What to expect This serum helps the body to generate connective tissues that improve the overall health of the skin. Increasing the skin's elasticity reduces the appearance of wrinkles and sagging around the neck area. Your neck and decollete will experience lasting effects within just 10 days of daily applications.
How to apply Apply a generous amount of serum to a freshly cleaned neck and chest morning and night. Avoid contact with eyes by washing hands after each application.
Key Ingredients
Organic plant glycerin
Organic bamboo
Organic algae protein
Organic artichoke protein
Organic alma fruit extract
Organic tremella mushroom
Organic aloe vera extract
Organic cucumber extract
Organic nettle leaf extract
Organic white willow extract
Organic yucca root extract
Organic gingko biloba
Vitamin E
See full list of ingredients
Purified Water, Plant Glycerin, Bamboo, Whole Algae Protein, Artichoke Protein, Alma Fruit Extract, Eucommia Ulmoides, Methylsufonylmethane (MSM), Aloe Vera Extract, Cucumber Extract, Beta Glucan, Rye Serum, Cucumber Fragrance, Resveratrol, Nettle Leaf Extract, White Willow Extract, Linden Extract, Yucca Root Extract, Hedychium Coronarium Root Extract, Ginkgo Biloba, Vitamin E, Sodium Hyaluronate
Presentation: Glass bottle with plastic dropper
Weight: 1 fl oz (30 ml)
Shipping: We offer FREE SHIPPING for all orders inside the United States and Canada. International shipments have a $10 fee. Restrictions do apply.
Guarantee / Returns: We offer a 30 day money-back guarantee on all of our products. If you don't see results, get your money back. That's how sure we are that you will love this product!