Organic Skincare Treatments
Plant Collagen Night Serum




Video Gallery (application)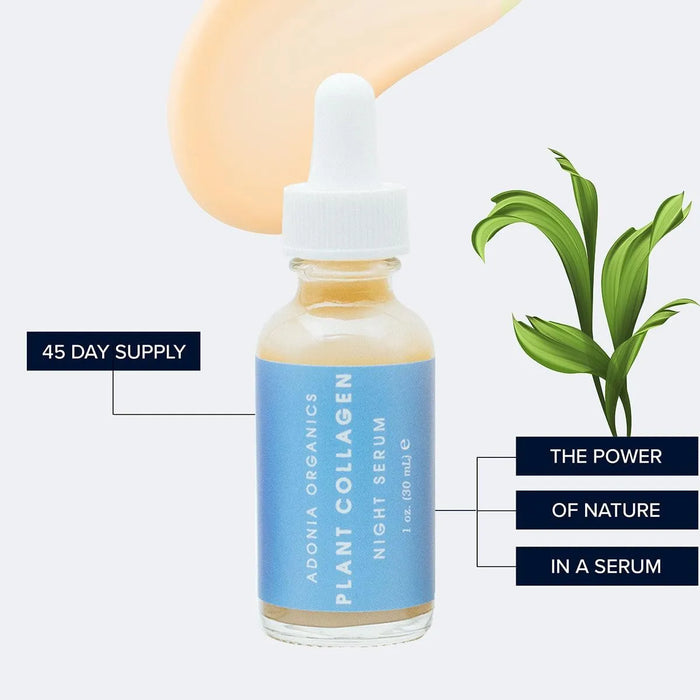 Nightly Nature
Regular price
Sale price
$89.00
Unit price
per
Improve elasticity, reduce the appearance of wrinkles and do it all while you are asleep. Plant Collagen is the newest innovation in the skincare industry.  You can rest easy knowing that a plant-based formula is helping restore your skin's elasticity & vibrant texture.
30 day money-back guarantee on all purchases
Share
Videos
Benefits
Improves Elasticity and Reduces Wrinkles While You Sleep
Aids Natural Collagen Production
Paraben-Free
Cruelty-Free
Molecular-sized Plant Collagen cells will properly absorb into the skin for maximum wrinkle reduction
What to expect This carefully formulated product is designed to aid the body in natural collagen production as you sleep. These plant-based nutrients help your skin produce more of its own collagen. The benefit is reduced wrinkles, firming of the skin, natural brightness and an improved texture.
How to apply Apply a generous amount of serum to a freshly cleaned face prior to bedtime. Make sure to avoid contact with eyes.

Apply serum abundantly to all areas of concern. This serum will instantly begin to tighten sagging skin and promote new collagen to develop.

We recommend using the full plant collagen collection for best results.
Key Ingredients
Organic plant glycerin
Organic bamboo
Organic algae protein
Organic artichoke protein
Organic alma fruit extract
Organic tremella mushroom
Organic aloe vera extract
Organic cucumber extract
Organic nettle leaf extract
Organic white willow extract
Organic yucca root extract
Organic gingko biloba
Vitamin E
See full list of ingredients
Purified Water, Plant Glycerin, Bamboo, Whole Algae Protein, Artichoke Protein, Alma Fruit Extract, Tremella Mushroom, Eucommia Ulmoides, Methylsufonylmethane (MSM), Aloe Vera Extract, Cucumber Extract, Beta Glucan, Rye Serum, Hedychium Coronarium Root Extract, Cucumber Fragrance, Resveratrol, Nettle Leaf Extract, White Willow Extract, Linden Extract, Yucca Root Extract, Ginkgo Biloba, Vitamin E, Sodium Hyaluronate
Presentation: Glass bottle with plastic dropper
Weight: 1 fl oz (30 ml)
Shipping: We offer FREE SHIPPING for all orders inside the United States and Canada. International shipments have a $10 fee. Restrictions do apply.
Guarantee / Returns: We offer a 30 day money-back guarantee on all of our products. If you don't see results, get your money back. That's how sure we are that you will love this product!