Organic Skincare Treatments
Self-Tanning Face Drops




Before & After (popup gallery)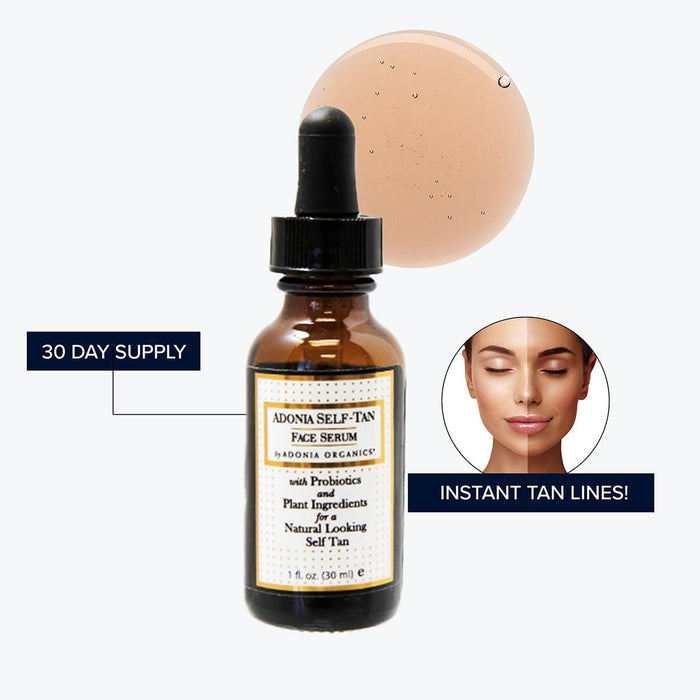 Naturally sun-kissed
Regular price
$49.00
Sale price
$35.00
Unit price
per
Boasting 12 Greek botanical oils, your face will look like you have been sunning in Santorini. This self-tanning solution will look smooth, even and natural. It's moisturizing properties, coconut scent and streak-free guarantee will have you using it all year long.
30 day money-back guarantee on all purchases
Share
Before/After
Benefits
Instant Results, Color Deepens Over 6 Hours
No Streaks
Paraben-Free, Cruelty-Free and Gluten-Free
Easy to Apply
No Orange Tone
100% Plant-based
What to expect Our unique formula will saturate your skin with greaseless face drops while producing a natural-looking bronze without the "orange effect" and odor of other self-tanners. No one will guess your tan came from a dropper.
How to apply Apply to face using a makeup pad/sponge or add few drops to your daily moisturizer, mix and gently apply to the face and neck.
Key Ingredients
Organic Bergamot

Known for reviving the skin, bergamot enhances the skin's radiance and it's aroma is lively and sweet.

Organic Tangerine

Extremely beneficial for the skin, contains Vitamin A so it's healthy for your skin. It's also great for toning and its aromatic properties.

Organic Geranium

Trusted by the Greek culture, geranium helps clean, soften, refresh and smooth the skin.
See full list of ingredients
Purified Water, Dihydroxyacetone, Plant Probiotics, Vegetable Glycerin, Organic Bergamot Oil, Citrus Aurantium Flower Oil, Organic Clove Oil, Organic Geranium Oil, Organic Grapefruit Oil, Organic Everlasting, Organic Lemon Oil, Sodium Hyaluronate, Caprylyl Glycol, Organic Lavender Oil, Organic Lavendin Oil, Organic Lime Oil, Organic Mandarin Oil, Organic Patchouli Oil, Organic Citronella Oil, Organic Peppermint Oil, Organic Petitgrain Sur Fleur, Organic Rosewood Oil, Organic Tangerine Oil, Grape Seed Extract, Green Tea, Resveratrol, Geogard-Natural Preservative, Citric Acid, Vitamin C.
Presentation: Glass Bottle with Plastic Dropper
Weight: 1 fl oz (30 ml)
Shipping: We offer FREE SHIPPING for all orders inside the United States and Canada. International shipments have a $10 fee. Restrictions do apply.
Guarantee / Returns: We offer a 30 day money-back guarantee on all of our products. If you don't see results, get your money back. That's how sure we are that you will love this product!