Organic Skincare Treatments
TummyTone Serum





Before & After (popup gallery)
Video Gallery (application)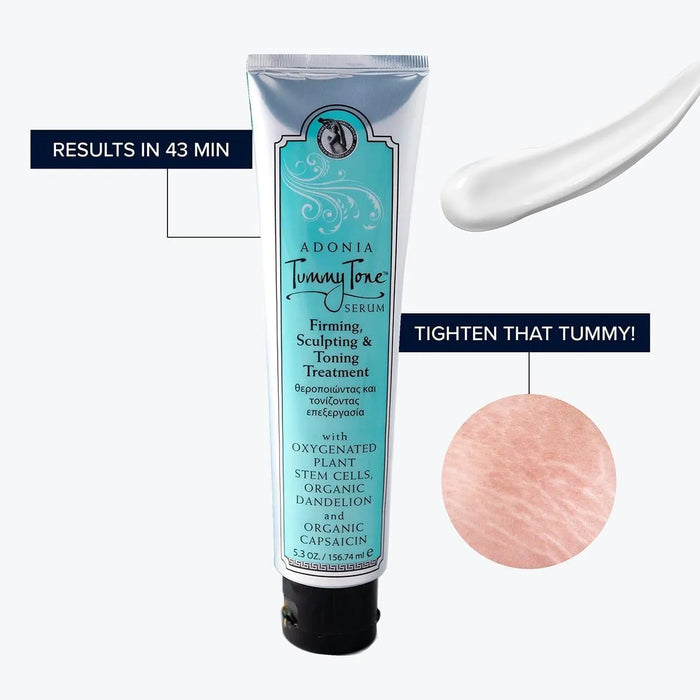 Muffin top no more
Regular price
$89.00
Sale price
$69.00
Unit price
per
Reduce the appearance of love handles and your waistline in 43 minutes! New oxygen-based body wrap treatment helps lift and tighten saggy-looking skin. Whether you've recently lost weight or just want to defy gravity, this treatment will help you reduce your waistline, tighten the love handles & improve the appearance of your skin. 
Size: 5.3 fl oz (156.74 ml)
30 day money-back guarantee on all purchases
Share
Before/After
Videos
Benefits
Results You Can See in Less than 43 Minutes - AMA Labs
Get Visibly Firmer and Tighter Skin Around Your Tummy
Reduces the Appearance of Saggy Skin, and Achieve a Slimmer-Looking Waistline
Uses a Gentle Blend of Organic Ingredients
Hypoallergenic - Safe and Effective for All Skin Types
Paraben-Free, Cruelty-Free, and Gluten-Free
100% Plant-based
How to apply Apply to stomach, legs, hips and thighs and wrap skin three to four times with plastic. Wait 60 minutes for the product to instantly help you lose inches. Watch application video
What to expect Your skin will instantly lift and tighten with a blend of botanical ingredients that begin working immediately. You will naturally lose inches around your midsection, love handles and thighs after just one application. AMA Labs conducted a clinical study and confirmed an average reduction of the stomach/belly circumference by up to 2 inches after 43 minutes.
Clinical Study (Proven Results) * 100% of test panelists reported that TummyTone reduced the appearance of saggy and flabby skin around their Tummy/Stomach region by up to 67% also in 43 minutes
* 100% reported results after treatment

Passed Safety/regulatory status in the USA and the European Union
Consumer Skin Sensitization Patch Study
Skin Irritation Study

* Conducted by AMA Laboratories. A clinical study was conducted to determine the efficacy of Adonia TummyTone. The studies were performed among a statistically significant panel of subjects ranging in age from 18 to 28 years old.
How to apply Apply to stomach, legs, hips and thighs and wrap skin three to four times with plastic. Wait 60 minutes for the product to instantly help you lose inches.
Key Ingredients
Organic Capsaicin

Capsaicin can increase energy expenditure and fat oxidation through the activation of brown adipose tissue (BAT).

Organic Dandelion

Commonly used to support the elimination of toxins, dandelion contains the powerful antioxidants beta carotene and luteolin and is a natural source of Vitamins A, B, C and D.

Organic Ginger Oil

Its antioxidant properties are known to have a protective effect on the skin, inhibiting the signs of skin damage and saggy aging looking skin.
See full list of ingredients
Water, Glycerin, Witch Hazel (Hamamelis Virginiana Extract), PEG-8 Dimethicone Pullulan, PEG-7, Glyceryl Cocoate, TEA-Hydroiodide, Organic Ginger Essential Oil (Zingiber Officinale Root Oil), Organic Grapefruit Essential Oil (Citrus Paradisi Oil), Organic Lemon Essential Oil (Citrus Limon Peel Oil), Organic Cypress Essential Oil (Cupressus Sempervirens Oil), Methylsilanol Mannuronate, Aesculus Hippocastanum Seed Extract, Bladderwrack Extract (Fucus Vesiculosus Extract), Butcheerbroom Extract (Ruscus Aculeatus Root Extract), Ivy Extract (Hedera Helix Extract), Paullinia Cupana Seed Extract, Organic Cinnamon Bark Oil (Cinnamomum Bark Oil), Organic Juniper Oil (Juniperus Communis Oil), Organic Geranium Essential Oil (Pelargonium Graveolens Oil), Organic Fennel Oil (Foeniculum Vulgare Oil), Camellia Oleifera Leaf Extract, Rosemary Oil (Rosmarinus Officinalis Leaf Oil), Eucalyptus Leaf Oil (Eucalyptus Globulus Leaf Oil), Centella Asiatica Extract, Organic Peppermint Essential Oil (Mentha Piperita Oil), Organic Orange Oil (Citrus Aurantium Oil), Organic Clary Sage Essential Oil (Salvia Sclarea Oil), Organic Evening Primrose Oil, Organic Dandelion (Taraxacum Officinale Root Extract), Organic Capsaicin, Plant Stem Cell Culture Blend TM, Dehydroacetic Acid, Ethylhexylglycerin.
Presentation: Metallic Tube with plastic cap
Weight: 5.3 fl oz (156.74 ml)
Shipping: We offer FREE SHIPPING for all orders inside the United States and Canada. International shipments have a $10 fee. Restrictions do apply.
Guarantee / Returns: We offer a 30 day money-back guarantee on all of our products. If you don't see results, get your money back. That's how sure we are that you will love this product!