Adonia Organics Has the Secret to Making Summer Last
Are you looking for a natural way to extend your healthy-looking summer tan without damaging your skin? Look no further than our Adonia Organics sunless tanners! Not only do they offer a safe and effective alternative to traditional tanning methods that can result in red painful sunburned skin, but they can also provide numerous benefits for mature skin.
What are Organic Sunless Tanners?
Organic sunless tanners are self-tanning products that use natural organic ingredients to provide a gradual long-lasting tan. They are free of harmful chemicals such as parabens, sulphates, and phthalates, making them a safer option for your skin and the environment. Key ingredients in Adonia's Tanning Foam include: 
Organic Bergamot is known for reviving the skin, bergamot enhances the skin's radiance and its aroma is lively and sweet.

Organic Tangerine is extremely beneficial for the skin because it contains Vitamin A which influences cells to behave in a younger healthier way, leaving skin looking more radiant. It's also great for toning and its aromatic properties.

Organic Geranium has been trusted by the Greek culture for generations to help clean, soften, refresh and soothe the skin.
Benefits of Organic Sunless Tanners
It's an unavoidable fact, as we age, our skin becomes more delicate and prone to damage.  Traditional tanning methods, such as sunbathing or using tanning beds, can cause premature aging, wrinkles, uneven skin tone and even skin cancer. By using sunless tanning formulas you can not only avoid long-term skin damage but also reap some pretty amazing benefits. 
Gentle on the Skin: Organic sunless tanners are formulated with natural and nourishing ingredients such as aloe vera, coconut oil, and green tea extract, which can help hydrate and soothe the skin. They also provide a more even and streak-free application, giving your skin a natural-looking glow without the need for exposure to harmful UV rays.
Anti-Aging Properties: Organic sunless tanners can help reduce the appearance of fine lines and wrinkles. They contain antioxidants and anti-inflammatory ingredients that can protect your skin from free radicals and promote collagen production, which is essential for maintaining youthful-looking skin.
Sustainable and Eco-Friendly: By choosing organic sunless tanners, you are not only protecting your skin but also helping the environment. They are made with natural and sustainable ingredients, and the packaging is sometimes recyclable, reducing waste and promoting eco-friendliness.
Long-Lasting Results: Organic sunless tanners can provide a natural-looking tan that lasts for several days. They can also be reapplied to maintain your desired level of tan.
How to Use Organic Sunless Tanners
Using organic sunless tanners is easy and straightforward. Here are some tips to help you achieve the best results:
Exfoliate: Before applying the tanner, make sure to exfoliate your skin to remove dead skin cells and create a smooth surface for the product to adhere to.
Moisturize: Apply moisturizer to dry areas such as your knees, elbows, and ankles, as these areas tend to absorb more tanner and can result in an uneven application.
Apply the Tanner: Using a tanning mitt or makeup sponge, apply the tanner evenly to your skin, starting from your legs and working your way up to your arms and torso. Avoid applying too much product to one area, as this can result in streaks. If using our face tanner, avoid contact with your eyes and use a good quality bronzer on your actual eyelids.
Wait and Rinse: Wait for the tanner to dry completely before getting dressed and avoid getting wet or sweaty for at least eight hours after application. Once the time has passed, rinse off the excess product with warm water, and pat your skin dry.
Adonia Organics Self-Tanning Foam & Face Drops
Our organic sunless tanners are an excellent option for mature women who want to achieve a healthy-looking tan without exposing their skin to harmful UV rays. Go ahead and give the Adonia Organics Self-Tanning Foam and Face Drops a try and enjoy a natural-looking glow that will make you look and feel your best!
Adonia Organics Self-Tanning Face Drops b

oast 12 Greek botanical oils, that will leave you with a "tan" that looks smooth, even and natural. Its moisturizing properties, coconut scent and streak-free guarantee will have you using it all year long.
Adonia Organics Self-Tanning Foam helps you create the look of basking in the sunshine without harmful UV exposure. No orange color, no funky odor, and bronzing results in just 15 minutes. Your long-lasting honey hue will leave everyone wondering where in the Greek isles you've been!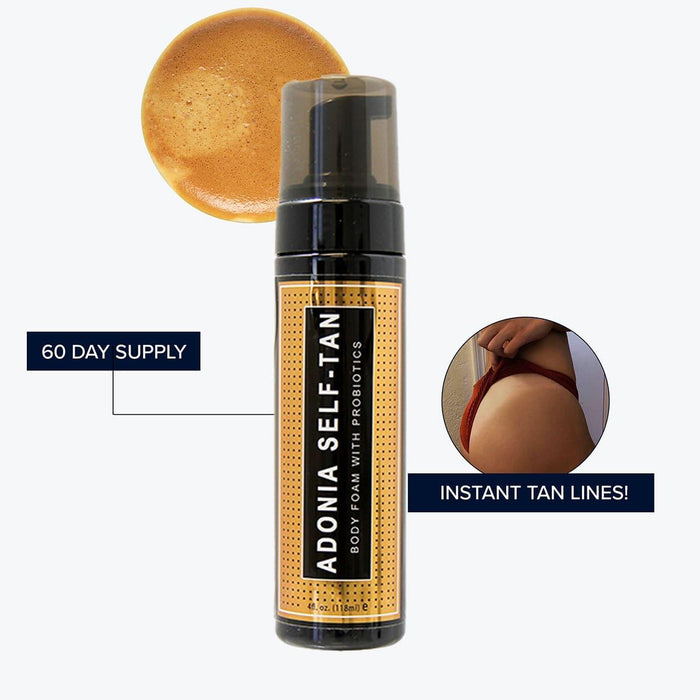 Together, the Adonia Self-Tanning Foam and Face Serum give you a perfect tan with fast results and a natural-looking sun-kissed glow that gradually deepens over several hours. The Adonia Bronzing Collection dries in seconds with no streaks, no mess, and no unpleasant smell. You will be left with a gorgeous, healthy, sun-kissed bronze tan that will rival those of Hollywood's elite; without ever setting foot in the sun.